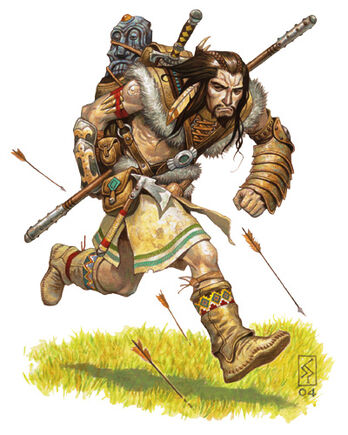 Warriors are partially skilled fighters who have focused on a few weapons and fighting styles rather than whole groups of weapons. The Warrior class replaces the Barbarian as a standard class in 3.5. 
Class Features
All of the following are class features of the Warrior
Weapon and Armor Proficiency:
A warrior is proficient with all light and medium armor and all simple weapons. At first level a warrior selects a primary weapon which they have studied how to use and two secondary weapons.
The primary weapon slot is given the Weapon Focus (feat) automatically. The secondary weapon slots are considered 'practiced' and can be used without penalty. Every other level after first they can select one of the combat feats to augment their training. 
Class Archetypes
Rather than the fighter type which is more of a gladiator - trained to use nearly every weapon and all armor, a Warrior is specifically trained to use a small group of weapons and only certain types of armor. 
This lends Warriors to fall within thematic categories that we call Archetypes.
Common Archetypes include:
Archer
Lancer
Guard
Swordsman
Primary Weapons
The primary weapon of a warrior basically determins what kind of warrior they are. Whether they wield a sword and shield, two-hander sword, axe and dagger or a longbow it is their first 'signature' weapon. 
Common Primary Weapons include:
Shortbow
Longbow
Crossbow
Long sword
Short sword
Bastard sword
Two-handed sword
Axe
Tomahawk (light axe)
Hammer
War Hammer
Advancemen
Class Skills
The Warrior's class skills are Acrobatics (Dex), Climb (Str), Craft (Int), Handle Animal (Cha), Intimidate (Cha), Knowledge (nature) (Int), Perception(Wis), Ride (Dex), Survival (Wis), and Swim (Str).
Skill Ranks Per Level: 4 + Int modifier.