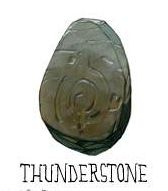 A Thunderstone is a bit of Alchemy and Artifice combined.
You can throw this stone as a ranged attack with a range increment of 20 feet. When it strikes a hard surface (or is struck hard), it creates a deafening bang that is treated as a sonic attack. Each creature within a 10-foot-radius spread must make a DC 15 Fortitude save or be deafened for 1 hour. A deafened creature, in addition to the obvious effects, takes a -4 penalty on initiative and has a 20% chance to miscast and lose any spell with a verbal component that it tries to cast.
Ad blocker interference detected!
Wikia is a free-to-use site that makes money from advertising. We have a modified experience for viewers using ad blockers

Wikia is not accessible if you've made further modifications. Remove the custom ad blocker rule(s) and the page will load as expected.