Worshipped by the Berkeron for his use of Necromancy.
Names
The Binder (Gnome)
The Unmaker (Halfling)
Lord of the Undead (Human)
The Soul Hunter (Elf)
His followers are known as Violet Priests due to the color of their robes and the color of the Pale Moon . 
History
Born a mortal but transformed himself into the first Lich prior to his death.
Father of Lesha See Also:
Holidays & Rituals
Category Holiday/Rhulic not found
Imagery
Some imagery of the god of undeath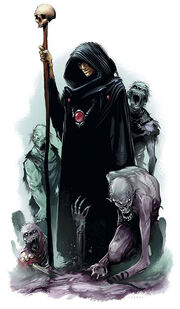 Ad blocker interference detected!
Wikia is a free-to-use site that makes money from advertising. We have a modified experience for viewers using ad blockers

Wikia is not accessible if you've made further modifications. Remove the custom ad blocker rule(s) and the page will load as expected.