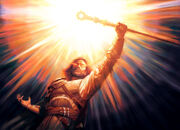 Revelation is the time at which one of the Gods makes direct connection with a follower and bestows them with their power.
Revelation is never subtle; the release of so much divine energy will have an immediate and lasting effect. For those followers of good gods, the area immediately surrounding them is considered 'holy' for up to three days. For those who follow a god of evil it will be 'unholy'
Ad blocker interference detected!
Wikia is a free-to-use site that makes money from advertising. We have a modified experience for viewers using ad blockers

Wikia is not accessible if you've made further modifications. Remove the custom ad blocker rule(s) and the page will load as expected.