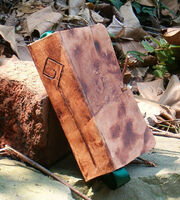 A Pilgrim's journal is a small, palm-sized book within which a
Pilgrim
records their travels throughout Arland. Pilgrims will record weather patterns, births and deaths within the villages they frequent, astrological events such as moon phases, star constelations, and the like.
They are also noted for being a means of sending information from one region to another. As many people are either illiterate or do not have adequate skills to send a letter from one person to another, they will ask a Pilgrim to carry the message with them as they go about their journey. Since this may mean that a Pilgrim has dozens or so messages bound for half-a-dozen locations, they will record them within their journal to keep the message and any response as accurate as possible.
Pilgrim Journals are also a common size of blank journal found throughout the Booksellers of the Marches. The average Pilgrim Journal is approximately one hand wide (5 inches) by one hand tall by two marks thick with approximately 120 pages (5 signatures of 12). 
They are commonly bound in sturdy leather with a tie-closure and can have various designs burned or tooled into the front or the spine.
Ad blocker interference detected!
Wikia is a free-to-use site that makes money from advertising. We have a modified experience for viewers using ad blockers

Wikia is not accessible if you've made further modifications. Remove the custom ad blocker rule(s) and the page will load as expected.