Nashale


Holy Symbol
Important Information
Title
The Corrupter
Rank
Lesser God
Servants
{{{minions}}}
Dominion
{{{dominion}}}
Alignment
Chaotic Evil
Sphere
{{{sphere}}}
Portfolio
Harm
Worshipers
None,
Followers Alignment
Domains
Trickery,
Charm,
Chaos
Water,
Scalykind
Associations
Allegiance
{{{allegiance}}}
Names
Dogma
Nashale is the polar opposite to the Mother, Amara. She is the goddess of the sea and storms.
Sacred Items
Holy Symbol
Nashale's Symbol is a shark's fin within a circle of a snake biting its tail.
Metal
Iron
Season
Winter
Colors
Dark Blue
Deep Purple
Sea Green
Animal
Followers
Temples
Rituals & Ceremonies
Relationships
Amara
Malvoch
History
Images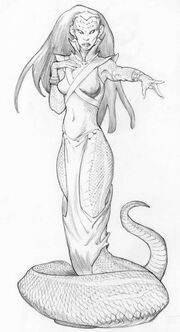 Nashale appears as a four-armed, serpentine woman with a snake's tail and medusa-like hair.