Jaxyl


Arms
Important Information
Race
Human
Ethnicity
Arness
Class
,
Faith
 ?
Date of Birth
Date of Death
death
Heirloom
Associations
Allegiance
Residence
Family
 ?
Friends
 ?
?
?
?

A peasant boy from The Narrows of Kingsport Jaxyl was born as nothing but proved to himself and others that books and people are not to be judged by how they appear. While at the Arcane Academy, he was the founded the 'Punkin Patch' cabal - a group of misfit, student wizards all trying to make their way in the world.
History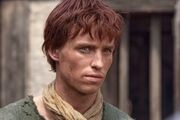 See also: Jaxyl/History
Magic
Jaxyl is a wizard who specializes in evocation - specifically fire-based magic. He is not blessed with patience, subtly or fine control of his magic but when pushed his ability to deliver destruction is impressive.