House Trejan


Important Information
Rank
Major House
Founding
105 KR
Motto
Honor above all
Seat
Kel Arn, Kels
Holdings

Category Holding/Trejan not found

Members
Members
Heirlooms
Alliances
Economics
Economic interests
A Great House of the Kels, the House of Trejan is a noble house of Kel Arn responsible from whom came the Dragon King who took the Golden Throne in 5395 GR.
History
The House of Trejan has ruled the city of Kel Arn since its creation with the occasional period where they were unseated from their ancestral rulership. 
Their coat of arms, the gold lion under the sun, was taken directly from the seal of the city of Kel Arn. Historically, only the leader of the House may display this banner, all others display a similar crest without the sun. 
Rulership of Kel Arn
500-600 KR: King assassinated by House ... 
820-985 KR: Unseated by House of Ulster
1506 - ? KR: 
The Shadow Wars
While under the rulership of Kerrick Trejan, Kel Arn is able to convince the Council of Tor Gizad to accept humans at the Academy of Arcane Magic on their island city.
Wars
Battles
Events
Members of the House of Trejan

See also: House Trejan, House Trejan Family Tree
Appearance
Members of the House of Trejan, for whatever reason, always have brilliantly blonde hair.
Military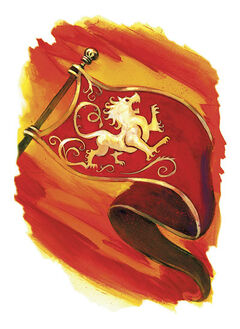 Politics
Economics
Ad blocker interference detected!
Wikia is a free-to-use site that makes money from advertising. We have a modified experience for viewers using ad blockers

Wikia is not accessible if you've made further modifications. Remove the custom ad blocker rule(s) and the page will load as expected.