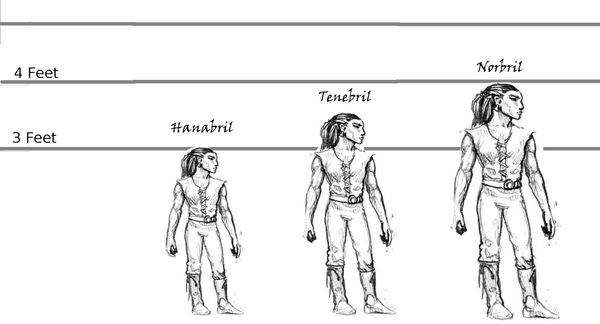 Halfling Adventurers
Cleric
See also: Cleric
Druid
See also: Druid
Fighter
See also: Fighter
Monk
See also: Monk
Paladin
See also: Paladin
Ranger
See also: Ranger
Rogue
See also: Rogue
Sorcerer
See also: Sorcerer 
Tribesman
See also: Tribesman
Wizard
Halflings, aside from the Tenebril , do not pursue arcane magic. 
See also: Wizard
Witch
See also: Witch
History
Halfling ethnic groups
The following are the most prevalent and largest ethnic groups to be found in Arlund at this time.
Racial Mechanics
+2 Dexterity, +2 Charisma, –2 Strength: Halflings are nimble and strong-willed, but their small stature makes them weaker than other races.
Small: Halflings are Small creatures and gain a +1 size bonus to their AC, a +1 size bonus on attack rolls, a –1 penalty to their Combat Maneuver Bonus and Combat Maneuver Defense, and a +4 size bonus on Stealth checks.
Slow Speed: Halflings have a base speed of 20 feet.
Fearless: Halflings receive a +2 racial bonus on all saving throws against fear. This bonus stacks with the bonus granted by halfling luck.
Halfling Luck: Halflings receive a +1 racial bonus on all saving throws.
Keen Senses: Halflings receive a +2 racial bonus on Perception skill checks.
Sure-Footed: Halflings receive a +2 racial bonus on Acrobatics and Climb skill checks.
Weapon Familiarity: Halflings are proficient with slings and treat any weapon with the word "halfling" in its name as a martial weapon.
Languages: Halflings begin play speaking Common and Halfling. Halflings with high Intelligence scores can choose from the following: Dwarven, Elven, Gnome, and Goblin.
Ad blocker interference detected!
Wikia is a free-to-use site that makes money from advertising. We have a modified experience for viewers using ad blockers

Wikia is not accessible if you've made further modifications. Remove the custom ad blocker rule(s) and the page will load as expected.