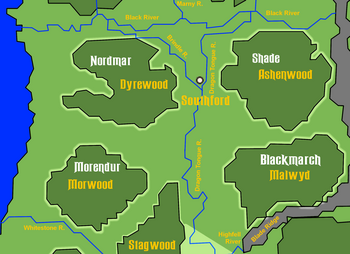 The Barony of Nordmare (NORD-mare) is located within the Dyrewood in the South Marches. 
The Barony of Nordmare is also one of the Black Baronies .
Marches
Features
Settlements
Politics
Political Relations
Settlement
Public
Private

General Respect but only in economic dealings. 

General Respect but only in economic dealings. 

General Respect but only in economic dealings. They are the northern allies and partners in trade. They share the fundamental values we all cherish

Nordmare
History
Origin: The Barony gets its name from the old Arness dialect. The Dyrewood forest is covered with small swamps and bogs and so the original settlers named it Nord-Mar, "North Swamp". Unfortunately the early settlers had their directions mixed up because the region lies east of Kel Arn. This would have given it the name 'Estmar' or "East Swamp". Scholars, however, are quick to point out the alternate use of the word 'Nord' which also means 'Forgotten'. 
The Barony is settled mostly within the borders of the Dyrewood forest. and sets south of the Brindle River and the Black River. Governed by the House of Grellen for centuries, the Barony was one of the first areas explored after the formation of the Kels. 
880 KR: The Barony of Nordmare within the forest known as Dyrewood has definitely had it's share of bad times. The barony was originally known for its production of rich and colorful fabric that was quickly consumed by the city of Kel Arn and the other Kels. The name of the forest, Dyrewood, was originally known as 'Dyer's Wood' in that it was a forest known to support many villages and towns who produced cloth dye. 
1500 KR: The House of Grellen  once held the Keep at the center of the Barony but lost it some years before the acension of the Sun King, Tarach Trejan to an infestation of undead. They've been unable to reclaim it despite several attempts.
As the keep began to fall into disrepair the land surrounding it also began to darken giving into the new nickname of the keep and the barony as "Nightmare" rather than "Nordmare".
Wars
Category War/Nordmare not found
Battles
Category Battle/Nordmare not found
Events
Category Event/Nordmare not found
Quotes about Them
Quotes from Them
Ad blocker interference detected!
Wikia is a free-to-use site that makes money from advertising. We have a modified experience for viewers using ad blockers

Wikia is not accessible if you've made further modifications. Remove the custom ad blocker rule(s) and the page will load as expected.