Barony of Morendur


Important Information
Type
Barony of the South
Founding
Leader
House of Morentelli
Seat
Mirador
Holdings
{{{holdings}}}
Heirlooms
{{{heirlooms}}}
Organization
Members

Category Banner/Morentelli not found

Events
{{{events}}}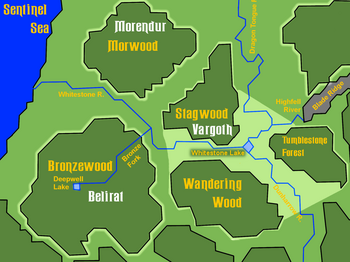 A Barony within the
South Marches
 located within the forest of
Morwood
. 
The Barony is now and has always been under the rulership of the House of Morentelli . Morentelli rose to power during The Great Silence as they were able to grow the medicinal herbs necessary to keep the Kels healthy. Dozens of plantations were started within the Morwood to grow a number of apothecary items but then later shifted to growing a variety of teas. 
The Barony of Morendur is the herbal and tea producing heart of the South Marches and is the source of much of the commodity found in the Kels. 
Known Marches
Known Characters
Known Settlements
Politics of Morendur
Political Relations
Settlement
Public
Private

Belirat is one of the only economic powers in the South Marches that could challenge Morendur. Both enjoy a fair amount of economic superiority over other barons and fairly confident in their ability to out-buy or out-spend their opponents. 

General Respect but only in economic dealings. 

General Respect but only in economic dealings. 

Morendur

Elsbeth Morentelli is the most ruthless of her siblings - savage enough to kill her older brothers to pave the way for her asscension to the throne. 

Worried that Vargoth might send his dragons over to the her tea and herb plantations and demand a portion of their profits or burn the farms - and their profits to the ground. 
Ad blocker interference detected!
Wikia is a free-to-use site that makes money from advertising. We have a modified experience for viewers using ad blockers

Wikia is not accessible if you've made further modifications. Remove the custom ad blocker rule(s) and the page will load as expected.