An
atlatl
or
spear-thrower
is a tool that uses leverage to achieve greater velocity in
dart
-throwing, and includes a
bearing
surface which allows the user to temporarily store
energy
during the throw.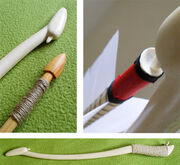 It consists of a shaft with a cup or a spur, which may be integrated into the weapon or made separately and attached, in which the butt of the projectile, properly called a dart, rests. The atlatl is held in one hand, gripped near the end farthest from the cup. The dart is thrown by the action of the upper arm and wrist in combination with the atlatl as an extension of the throwing arm, adding significant force through increased angular momentum.
Ad blocker interference detected!
Wikia is a free-to-use site that makes money from advertising. We have a modified experience for viewers using ad blockers

Wikia is not accessible if you've made further modifications. Remove the custom ad blocker rule(s) and the page will load as expected.