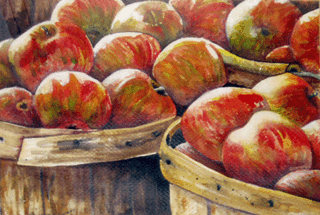 The Apple Moon Festival is held on the mid-moon of Stim; the moon of Apples.
It's a festival of hope and of joy - planning for the coming harvest.
Single women wear wreaths of apple blossoms as their crowns. In a game similiar to ring-toss, the women toss their wreaths out onto a small pit lined with the daggers of the men in their village. Should she encircle the dagger with her wreath, she may become an "Apple Bride" for one night.
The extend to which the two consummate their relationship is generally a private matter but many an Apple Bride marries in spring.
Apple-Moon in Wyck
The Apple Moon festival in Wyck is a fairly large occasion, usually celebrated with contests, hard cider and a visit from the Gizerathi who will amuse the villagers with a wonderous display of magically-fueled fireworks. Villagers will come from all around for the three day festival as it's the largest of the season if not the whole of the year - only seconded by the hustle and bussle of the spring sheering fair.
Ad blocker interference detected!
Wikia is a free-to-use site that makes money from advertising. We have a modified experience for viewers using ad blockers

Wikia is not accessible if you've made further modifications. Remove the custom ad blocker rule(s) and the page will load as expected.